Notre sommelier

Une expérience qualifiée et approuvée à de nombreuses reprises depuis 1990 !
Elu meilleur sommelier de Suisse romande, Ruinart 1999.
Meilleur sommelier Jura-Franche-Comté, 2000.
Elu meilleur sommelier de l'année 2001, Gault Millau, Suisse.
Maître sommelier de France, UDSF 2001.
> En savoir plus
Festivals and tasting - summer 2011
The 21/07/2011 at 09:54
"Art and Wine" (Var), Lavigny tasting at the Castle, the "festi'caves" in Arbois, the feast of wine Eguisheim (68) or the Marathon du Médoc (33)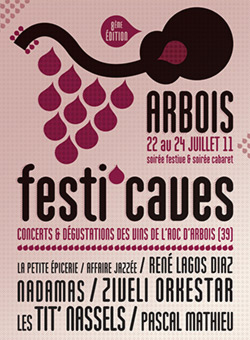 June 1 to September 30: "Art and Wine" (83).

Independent winegrowers in Var host art and wine in their cellars and castles. Tasting cultural discovery that combines painting, sculpture, ceramics and photography.

Tuesday July 12 to August 23: Castle Lavigny

Tuesdays from 12 July to 23 August, evening introduction to wine tasting at Chateau de Jura Lavigny at 20:30.

From July 22 to 24 in Arbois (39): "The festi'caves"

Music and wine tasting of the AOC Arbois. 7 bands with 23 growers.

27 and 28 August: Feast of winemakers Eguisheim (68).

It is the largest wine festival in Alsace, which is located south of Colmar.

€ 6 entry before 19:00 on Saturday and after 19:00 € 8 and € 3 for Sunday.

September 10: the Marathon du Médoc (33)

Delirium most races. A legendary race around Pauillac. The theme of the 27th marathon will be animals.
Partager sur :