Notre sommelier

Une expérience qualifiée et approuvée à de nombreuses reprises depuis 1990 !
Elu meilleur sommelier de Suisse romande, Ruinart 1999.
Meilleur sommelier Jura-Franche-Comté, 2000.
Elu meilleur sommelier de l'année 2001, Gault Millau, Suisse.
Maître sommelier de France, UDSF 2001.
> En savoir plus
A visit during the holidays - Summer 2011
The 27/07/2011 at 12:00
Tasting bar in Cahors, "The key of the vineyards are in Duras" cite>, cellar tours of Paris, a library of wine in Beaune or "The house Camille Cayran" cite>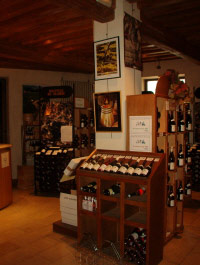 Bars, basements, and discovery:
A new tasting bar held the office of tourism and the inter wines of Cahors.
This house located in downtown Cahors Malbec Cahors in the villa. Open from July, reception area dedicated to wine tourism.
« Les clés du vignoble sont à Duras » :
A permanent free exhibition and for all. It helps to understand the life of the vineyard of Côtes de Duras. With a fun journey, visual and olfactory.
Concept and cellar tours in Paris:
- Paris 1st, the « Wine by one », 9 rue des Capucines 75001 Paris.This concept offers a hundred wines by the glass. Enomatic all under glass, under vacuum. You can choose to sample 3, 6 or 12 cL. This is a great way to taste before buying. For more information: www.winebyone.com
- Paris 9th, « Bordeauxthèque », Lafayette Gourmet, 48 Boulevard Haussmann 75009 Paris. The whole Bordeaux to Paris. A true temple in a setting of Star Wars. 1300 references with a price range of € 5 to more than € 50 000. Nothing but worth a visit.
- Paris 6th, « Fine spirites », 6 carrefour de l'Odéon 75006 Paris. The world of spirits to your door. Open since October 2010, for people who are not fortunate enough to travel the globe is at your fingertips. For more information: www.finespirits.fr
- Paris 12th, « Rouge, blanc, et bulles », 12 rue Parrot 75012 Paris. Tom Thumb wine shop with a selection of handpicked. The good as good. This is not a wine shop is ready-to-wear custom.
One of the most beautiful and most major bookstores in Beaune is the wine (21):
This is the Athenaeum, in the center of Beaune, in front of the Hotel Dieu. The library covers 1200 square meters, hundreds of books on wine and on world cuisine and everything in several languages. Open 7 days 7 from 10:00 to 19:00, 5 rue de l'Hôtel Dieu 21000 Beaune. For more information: www.athenaeumfr.com
« La maison Camille Cayran » :
Route de Bollène, 84290 Cairanne.
The grouping of Cairanne wine offers a sensory journey, fun and educational with the wines of Cairanne. 1:30 Visit count, price € 6, free for children under 12. Open Monday to Saturday from 11:00 to 16:00. For more information: www.cave-cairanne.fr
Partager sur :