Professional solutions

Wine keepers
Looking for a professional stock management of wine?
It already exists!
Working directly with the pro sector, the company Aprogsys has developed a system built around full of latest technologies such as RFID and Cloud Computing.
Customers first
In direct contact with the solution Caves-Explorer, your customers can view the stored bottles at your stock, and send you their wishes bottle deposits and withdrawals.
Then security
With our expertise in RFID, we offer you a unique traceability of your stock. Therefore, each element or bottle will be identified through secure RFID tags to help you accelerate your outputs.
Benefits
Facilitates input / output
Maintains stock update
Accelerates inventories
Streamline interaction with customers
In short, saving time and therefore money!
Architecture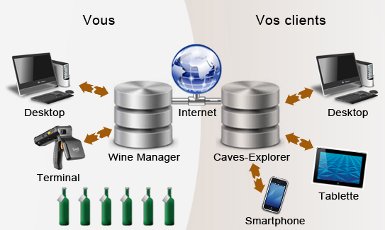 Illustration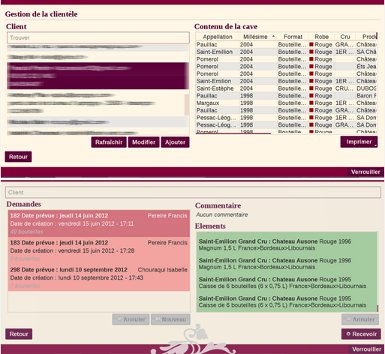 And this is already working
Precursor in wine storage to short, medium and long terms, the company Les Crayères des Montquartiers, based in Paris, has relied on this system and now attracts a growing clientele of people keen on wine and technology, seeking to to keep their bottles in good condition, and feel, thanks to the service iCave with Caves-Explorer, in constant contact with their bottles.

Restaurant / caviste
Looking for a professional to save time on managing your wine cellar or in your restaurant?
It's here!
Precursor in the highly specialized field of traceability, Aprogsys company has developed a solution that will save you valuable time in managing your inventory, sotck management, purchase orders, providing you with a real-time monitoring of your stock.
How?
Thanks to the latest technological tools, such as RFID, you will be able to destocking and inventory in an unprecedented speed.
Architecture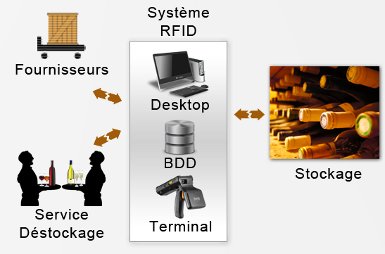 Two technologies
Depending on your mode, you have the choice between RFID HF (High Frequency) short distance and RFID UHF (Ultra High Frequency) long distance.
HF allows you to operate in real time, that is to say, the process outputs at the end of a given period (day) and use a mainstream technology rising, as more and more of all smartphones and tablets, more commonly known as NFC.
With UHF see big! This technology allows to process outputs in real time. Therefore, a quick visit to your stock and inventory is completed. Go through the door to the cellar, and the bottle is automatically saved in the output!
Both systems save you time on the following points:
Supplier management
Managing I/O in cellars
Optimizing orders
Alarms / warnings on inventory levels
Development of map data from stock
...
Contact
Want to learn more about solutions Caves-Explorer PRO?
Contactez Vincent Beurey : vbeurey@aprogsys.com ou par téléphone au +33 (0)3 81 47 70 38